Are you getting enough rest and relaxation this holiday season?  Start using this little tip:  "Luxury is an ancient and important notion.  There was once a Chinese mandarin who had himself wakened three times every morning simply for the pleasure of being told it was not yet time to get up." –Argosy    
The parties, brunches, and lunches should be in full swing for all Joycers by now–let's hope you're doing lots of Joyceland's favorite exercise:  lifting fork to mouth and back down to plate, fork to mouth and back down to plate.  If you're looking for a little extra calorie burning trick, attach a one pound weight to your fork.  Switch hands every ten bites.  Kiss, kiss, wink, wink.  We know all the tricks to keep our Joyceland party hopper's happy.
JezebelJoyce announced just yesterday that she's taking a leave of absence from her volunteer commitments.  It seems that the volunteering had become unusually demanding and was cramping her ability to enjoy lots of super socializing.  We applaud Jezzie's attempt to get her priorities straight and focus more on all things Joyce in 2010.  We award her this little Anne Taintor (www.annetaintor.com) notepad:
On the very first page of her new notepad, as therapy, we are asking her to write ten times:  "Sorry, I'm busy, I've got stuff going on."  Repeating this affirmation will help Jezzie remain strong in any weak moments that may pop up in the New Year requiring the volunteer spirit.   
Jukeylicious wanted to let everyone know of the Bacon Bake-off inviting you to create a sweet dessert which includes bacon as an ingredient.  You can even win prizes and like that.  Joyceland's August celebration of bacon caused quite a stir nation wide and is now the secret ingredient in most recipes including those for cookies, cakes, and pies.  Creative Joycers should send their sweet bacon recipes no later than Jan. 11 to kherzog@journalsentinel.com.  Tell 'em Joyce sent you.  
Need a quick little bacon something for breakfast?  The type of yum you can throw in your purse before work or shopping as these final frantic days of December fly by?  How about a Christmas Bacon Breakfast Cookie?   
1/2 cup butter or margarine, softened
3/4 cup sugar
1 egg
1 cup flour
1/4 teaspoon baking soda
10 bacon strips, cooked and crumbled
2 cups corn flakes
1/2 cup raisins
Cream butter and sugar. Beat in egg. Add flour and baking soda; mix well. Stir in bacon, corn flakes and raisins. Drop by rounded tablespoons onto ungreased cookie sheets.  Bake at 350 degrees for 15-18 min. or until lightly browned. Store someplace high so that your dogs don't jump on the counter and eat the entire batch.
We attended a little holiday brunch yesterday and while all the other ladies brought egg dishes, blueberry crisps, bagels, and fruit . . . we brought a plate of freshly fried bacon!  IT WAS A HUGE HIT and every piece was gobbled up.  Don't let anybody tell you NO when you offer to bring a big ol' plate of bacon to your next get together. 
Okay, now that we can't think of anything but food, have you tried the sea salt caramels from Crate and Barrel?  They're a seasonal item which makes them all the more seductive.  Once you try one you'll have visions of caramels dancing in your head . . .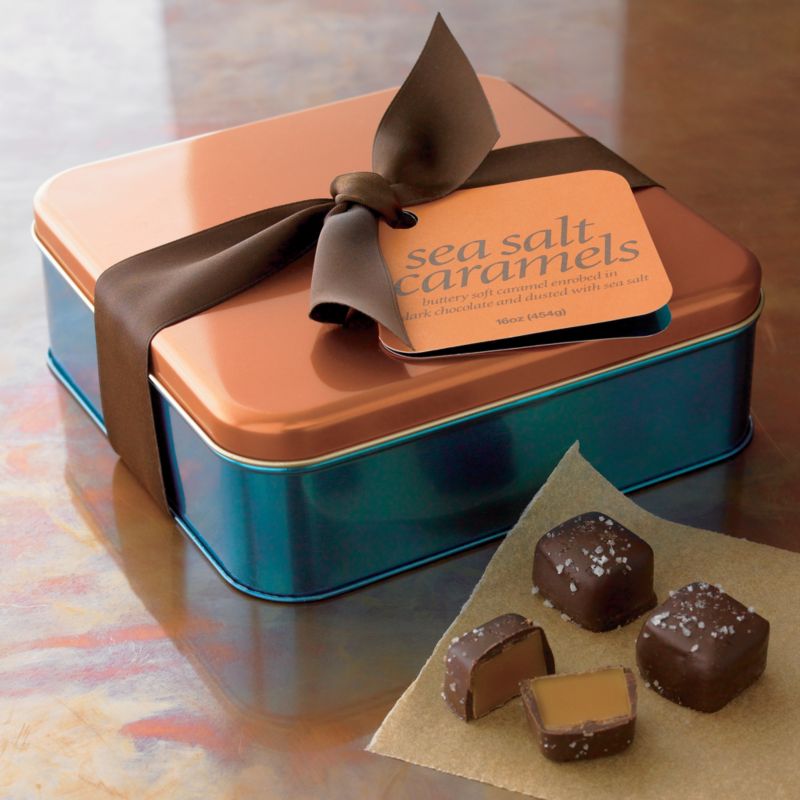 We've taped this picture to our bathroom mirror so we can look at them while getting ready in the morning.  Order a case and then you can do the 'one for them, three for me'  type of gift giving.  Or melt 'em and then bathe in them.  You'll be glad you did.
Besides caramels from the dead sea, Hot Creamy Sausage dip, and Bacon Breakfast Cookies . . . what else have you been enjoying this week?